I adored Jen's Bouquet which featured nude & toffee roses, beige carnations, phalaenopsis orchids with dried elements of bleached ruscus and pampas. The colours and forms of flowers complemented her stunning wedding dress.
The floral theme continued throughout the venue décor with coloured palm spears adding extra pops of colour and coordinated perfectly with the colours of the signage staged throughout the venue. Fifty Six events styled areas of the venue with props, rugs and various vessels all in keeping with the colour theme.
The reception tables were dressed with a staged setting of candle and vessels filled with flowers. On each napkin was a personalised name card which had a description of the origin of the persons name, a really lovely personal touch.
Rachel & Tonie have provided the stunning images of Jen & Gareth's' wedding day, they have captured it beautifully!
Styling and prop hire by Fifty Six Events
After delaying due to Covid, Rebecca & Vikesh waited so patiently for their wedding day to come around and when it did, they celebrated it in style!
We used reflexed Café Latte, Playa Blanca and Quicksand roses, the soft muted tones perfectly complementing the rose gold colour theme. For textural elements we added bleached ruscus and eucalyptus, with pampas grass featuring in the large installations in the Long Gallery and the heart shaped arch for the ceremony.
Tied sprigs of Olive & Rosemary sat upon the napkins at each place setting and in the centre of the table sat small compote arrangements allowing space for the copious amounts of Indian culinary delights being served at the Reception.
The entertainment was lively fusing together the couples Indian and Scottish heritage, think drums and bagpipes or better still you can see a highlight video on the Instagram page of Cam Media Video.
Professional images are by Burfly Photography
The stunning wedding cake was created by Julie Scrumptious.
The heart shaped arch frame, candles and napkins were supplied by Ashveil Weddings
"We can't thank you enough for your beautiful flowers- they had so so many compliments!!" Rebecca
Genna rocked the dried flower look, her unstructured dried flower bouquet and matching floral crown perfectly complemented her flowing dress and beautiful dark hair.
Keeping it simple, we created hair pins for the maids whose rust coloured dresses made a bold statement and for the gents matching dried flower buttonholes.
Raphael handmade the Chuppah for the ceremony for which we created two large dried flower designs. The setting was illuminated perfectly by Stephen Leslie lighting.
On the tables were staged settings of candles and glassware supplied by Fifty Six Events, each vessel filled with groupings of mixed coloured dried flowers. Simple but effective especially when there are multiple platters of delicious food. 
The rich and earthy colours whilst not your typical summer colour palette were just perfect for their Jewish barn wedding.
Styling and prop hire by Fifty Six Events
Photography by
O
lliver Photography
"We cant thank you guys enough, you are AMAZING. We absolutely loved working with you! So thrilled to have all your creations to keep too!" Genna
A monochromatic colour scheme, a hint of a rustic vibe and florals that featured gorgeous reflexed white roses with a sprinkling of gypsophlia. 
Styling and props by Fifty Six Events
"Can't thank you enough for making my day exactly how I imagined!" Jillian
Katie & Adam put their own stamp on Kinkell Byre with a look that was luxurious, rustic and chic. From the moment you walked through the door of Ian's Shed there were staged settings of wooden crates, crisp white florals, greenery and candles galore extending through and continuing into the Long Gallery. 
For the ceremony the scene was set with a Moongate Arch and tieds of roses on the chairs. Barrels were adorned with candles and lanterns lined the aisle.
The Reception area looked stunning with festoons of lights draped from the rafters. Upon the tables draped with damask linens were tall candelabras with a circlet of white hydrangeas and roses.
A floral runner dressed the top table with candles and votive holders set to the rear ready for ambient evening lighting. The setting was made even more glam with the addition of drapes accented which we accented with trails of ivy and the Chandeliers by Stephen at I-Light.
The amazing cake and table of sweet treats was created by Alison at a Bonnie Wee Cake
The professional photos are by
Derek Christie
 | venue flowers images by Stucio & Waow
Wooden crates and props from Fifty Six Events | Candelabras and Drapes from Make Believe Events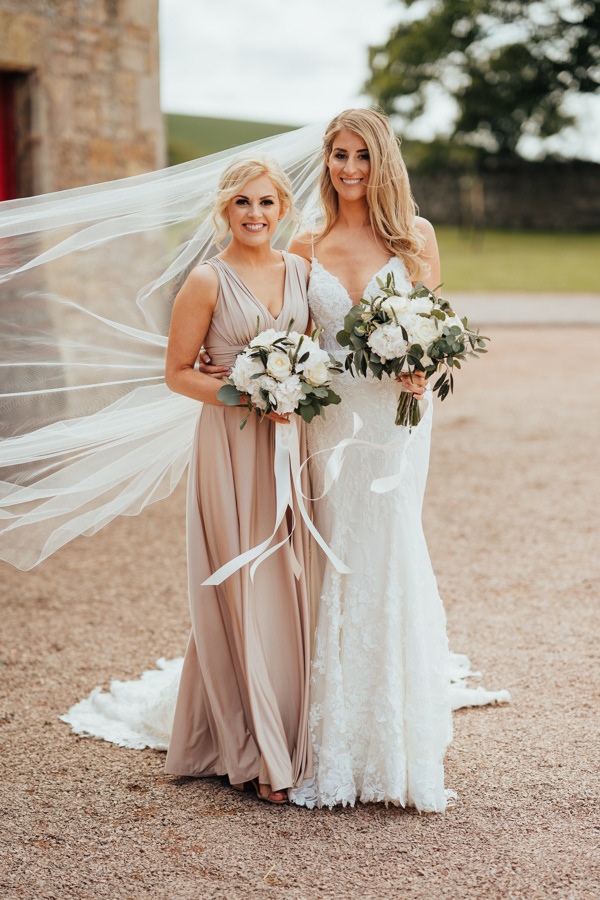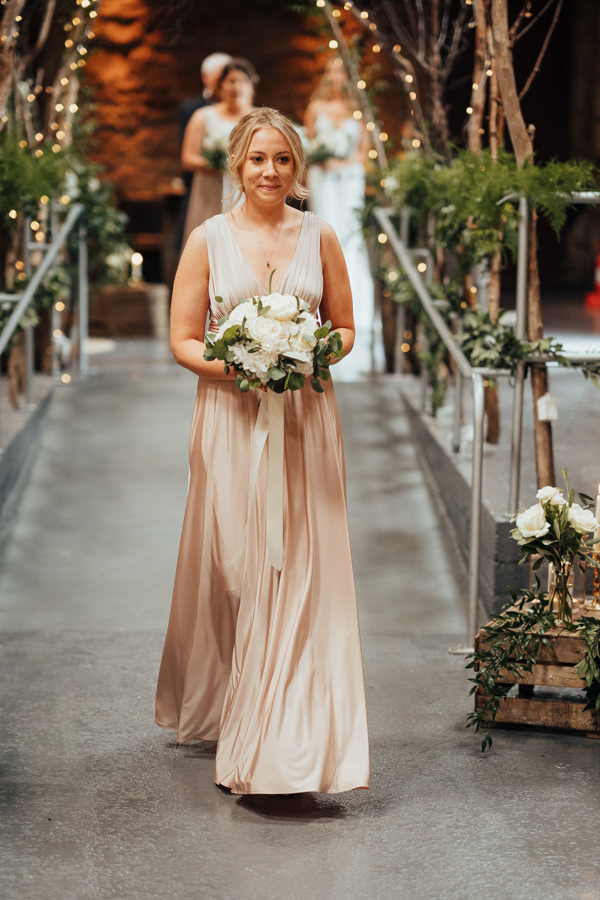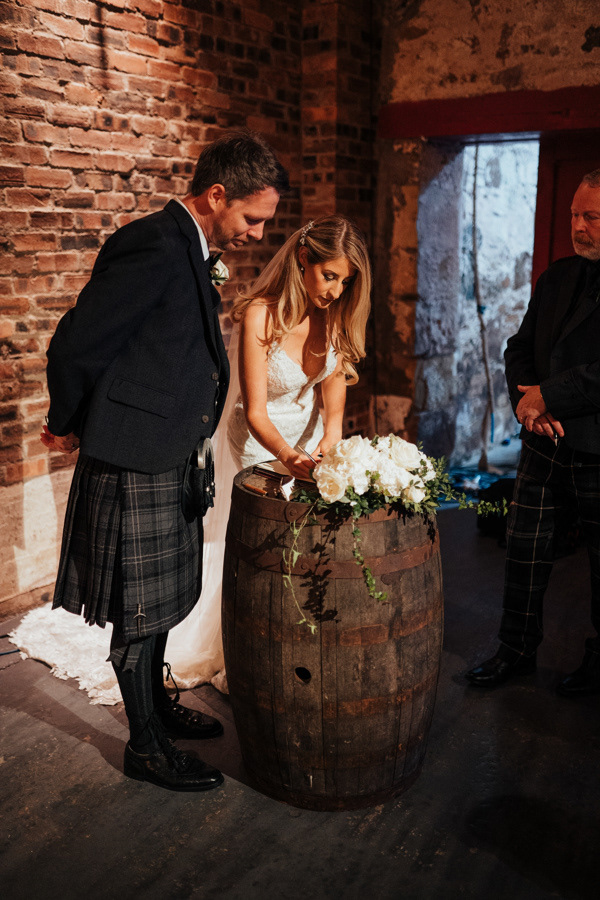 "I have no words Jenni!!! It was just even more beautiful than I could have imagined. Still not over our florals yet! Outstanding and so perfect!" Katie
The design brief for their wedding was to decorate the Byre with foliage's. This included creating a hanging installation above the top table, lush garlands framing the doors and a simple suspended backdrop for the ceremony. The tables were dressed with mixed foliage garlands and footed candle holders for ambient lighting.
With soft green dresses the bridal bouquets were designed to a neutral scheme incorporating roses, thistles and mixed seasonal foliage's.
Professional photographs by Casey Stewart
"Thank you so much for all your skills, talent and vision which brought our wedding to life. The bouquets, buttonholes & foliage structures were beautiful and exactly what we had in mind. We also cant thank you enough for your support and patience throughout the planning process which was during Covid. We cant recommend you enough and send our love and best wishes! Amy & Gary
Laura & Callum's wedding was fully coordinated by email, the first time I met Laura was on the morning of her wedding and she was just as lovely as I expected. There was a definite buzz of excitement and anticipation of the day as the bridal party viewed their bouquets.
At the venue Callum and his gents were in full spirits waiting for the magical day to enfold. The wedding party had spent much of the previous afternoon adding decorative elements throughout the venue with lots of stacked crates and candles for ambient lighting. 
In the Long Shed we decorated the opening doorways that lead to the dance floor with foliage garlands and white hydrangeas. Around the large mirror table plan was a foliage garland this time decorated with a few roses for a hint of colour.
In the Tattie Shed where the Ceremony was held we created a 3/4 Moongate Arch in Vintage pinks and neutral tones creating a gorgeous backdrop that was used for photographs throughout the day.
On the guest tables were chunky bottles set upon a wood slice and filled with Roses, Ammi, Eucalyptus and Bunny-Tails. A selection of our hired tealights added soft candle lighting.
Lengths of eucalyptus were placed along the top table with glass vases ready for the bridal bouquets. A simple and cost effective way to decorate a long top table.
The beautiful images provided in this gallery were taken by Photography by Emilie
up next is julian & tom's lush Autumnal wedding complete with hops, gourds and quirky decorative features