From the USA to Scotland and then onto India, Elizabeth & Daksh had multiple celebrations planned for their wedding and their wedding at Cambo was a truly beautiful floral affair.
Fully coordinated by email and phone, every room or area frequented by guests had crisp white, dusky pink or scented floral designs with an abundance of candles for ambient lighting.
I particularly loved the bridal bouquets of lush garden roses with sweet peas, dicentra and pink peppercorns  and the overflowing arrangement of seasonal floors at the foot of the staircase.
The cake by Florence & George was something special too with adorable woodland animals on each of the tiers.
Professional images by Ben Goulter
"Jenni you are amazing and completely nailed the drama. I wish that I could keep that fireplace swag forever!" Elizabeth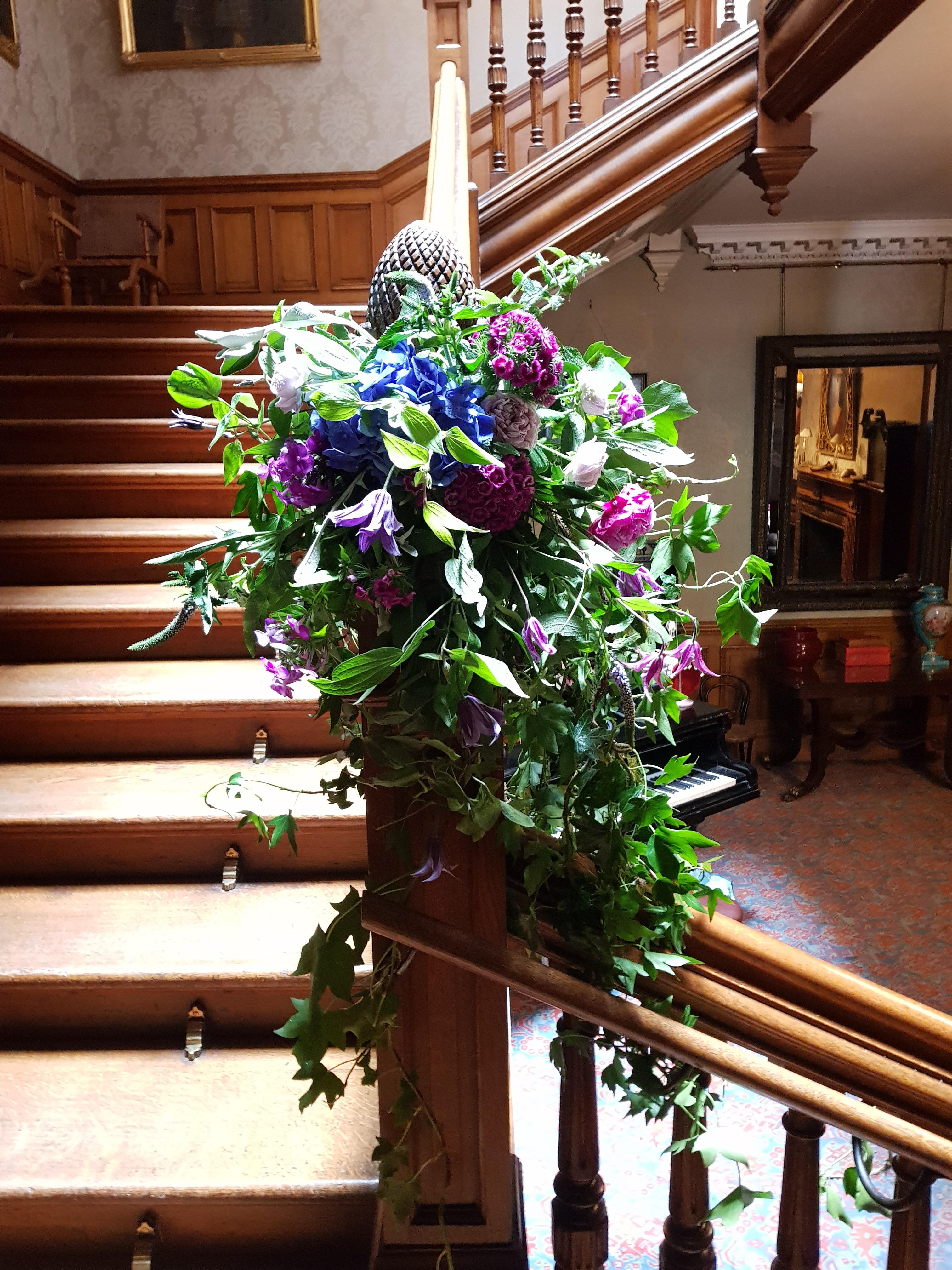 Kat's wedding flowers were deliciously fragrant and striking in colour. The bridal bouquet was a bountiful cascade of blousy peony roses, clematis. freesias, hydrangea, sweet william and roses, just as the bride wanted. 
Decoration of the venue began at the staircase with arrangements rich in colour adorning the posts. These gorgeous colours continued upstairs into the drawing room which was filled with the aromatic scents of mixed herbs and foliage.  
On the top table was a slim design of mixed florals from the bridal bouquet whilst the guest tables were accented by elongated designs of hydrangeas, herbs and clematis. The stunning fireplace, it received some floral treatment too with a central design that was mainly foliage based with light floral accents for colour.
As you can see the weather was glorious allowing the wedding party to enjoy the beautiful grounds of the estate. It is well worth a visit to Cambo and experience nature in all its glory.
"If you are looking for fabulous flowers you cannot go past Stucio and Waow. The flowers for my daughter Kat's wedding took our breathe away - just perfect! Thank you so much Judith"